Deadnaut: Signal Lost announced, wishlist on Steam!
October 31, 2021
The cosmos is tearing itself apart. Wrecks of long-dead starships are full of horrible, interdimensional creatures. The dead roam surfaces of moons, and you're being hunted by technically advanced soldiers.
Welcome to Signal Lost, Screwfly Studios' return to Deadnaut's grim and ruthless future.
While Deadnaut: Signal Lost is situated in the same universe as the original and features similar, mission-based gameplay in procedurally-generated locations, it is not a direct sequel.
You play the role of a remote handler who controls the action "at a distance" via a physical console, however, Signal Lost is focused on a single Deadnaut, rather than a squad.
The action is more intimate and tactical, and you can develop your Deadnaut with numerous suit upgrades and abilities. Furthermore, the gameplay is turn-based, not real-time, which helps focus the action.
We'll have more to reveal in the coming weeks and months, but for now, head over to the Steam page and wishlist Signal Lost to keep up-to-date as development progresses.
Fear Equation Arrives On Steam And GOG
January 15, 2016
Fear Equation Out Now
December 12, 2015
Fear Equation, the next game from the developer of cult games Zafehouse Diaries and Deadnaut, is out now for Windows and Mac OS X.
Fear Equation is a genre-spanning horror strategy game where no two games are the same. The world is covered in a mysterious fog. Most who enter the fog disappear, and those who survive say it brings their nightmares to life.
You are The Engineer and you're in control of a very special train. Will you rescue survivors and keep them safe from their nightmares? Can you lead them to salvation?
Fear Equation is currently available on Windows and Mac. If you buy direct from us, you will receive a Steam key when we launch there.
If you have any suggestions, bug reports or would simply to share your experiences, head over to our forums.
The world is covered in fog. Most who enter the fog disappear, and those who survive say it brings their nightmares to life.
No-one knows where it came from, but they all have ideas. Some say it's an experiment gone wrong, others say it's divine judgement. And you? All you know is that the Sun is rumoured to shine just over the horizon.
You are The Engineer. You have designed the perfect system: a train, sealed off from the fog, ready to rescue survivors and take them to salvation.
If only they'd listen...
HORROR STRATEGY
Fear Equation is a challenging mix of turn-based strategy, tactical planning and resource management. Every game is unique and you can customise your Engineer to dramatically change how the game is played.
NIGHTMARES COME TO LIFE
Your passengers bring their nightmares with them. When the fog attacks, it will make their worst fears come alive. Read your passengers' dream logs to help prepare defenses.
INTO THE FOG
The train needs resources and there's only one way to get them: send your passengers back out into the fog. Listen to radio broadcasts for hints and equip your scavengers well. But don't stay too long because they'll disappear into the fog.
POLITICS
Passengers will group into four factions based on where they think the fog came from. Different factions are associated with different nightmares, skills and concerns. You'll need to maximise their talents, handle their disputes and meet their needs.
IMMERSIVE ENVIRONMENT
Explore a richly detailed 3D cabin and interact with computers, train controls, maps and console. All interaction points feature an in-game manual so you'll never get lost.
Screenshots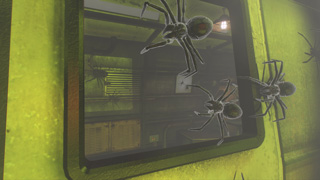 Latest update
The most recent version of Fear Equation is: v2.0.2 (released August 18, 2016)
If you bought Fear Equation via Steam or GOG
Do not attempt to apply the standalone patches from our site! As long as you haven't disabled automatic updates for the game, it should already be patched to the latest version. If in doubt, contact the distributor directly.
If you bought Fear Equation directly from us
To update any older version of the game, please download the appropriate patch for your platform using the links below:
Download latest update (Windows)

Download latest update (Mac OS X)
IMPORTANT: Custom passengers and engineers generated before 1.3.0 are not compatible with the latest update. They will be deleted upon starting the game to prevent loading issues.
Note to Mac OS X users: You will need to install Mono for OS X to run the update.
Before applying the update, make sure Fear Equation is not running.
Patch notes
v2.0.2, August 18, 2016 (latest)
v2.0.1 / v2.0.0, March 15-18, 2016
v1.3.2 / v1.3.1 / v1.3.0, January 11-13, 2016
v1.0.1a / v1.0.1, December 14, 2015
Older patches can be found here.
System requirements
These are the minimum system specifications required in order to run Fear Equation. The game may be able to run on older hardware, but we can't provide support for these configurations.
Windows
Windows XP, Vista, 7, 8, 8.1 or 10
Intel Core 2 Duo 2.2GHz or AMD Athlon 64 X2 5000
NVIDIA GeForce GTX 560 / RADEON R7 250X with 1GB
4GB system RAM
950MB hard drive space
1024 x 768 resolution or greater
The Windows version of the game also supports Direct3D 11, and will almost always perform better on hardware and platforms that support it.
Mac
Mac OS X 10.7 or later
Intel Core 2 Duo
Mid-to-high performance NVIDIA or AMD graphics card with 1GB RAM
4GB system RAM
950MB hard drive space
1024 x 768 resolution or greater
Linux
Ubuntu 12.04 or later
Intel Core 2 Duo
Mid-to-high performance NVIDIA or AMD graphics card with 1GB RAM
4GB system RAM
950MB hard drive space
1024 x 768 resolution or greater